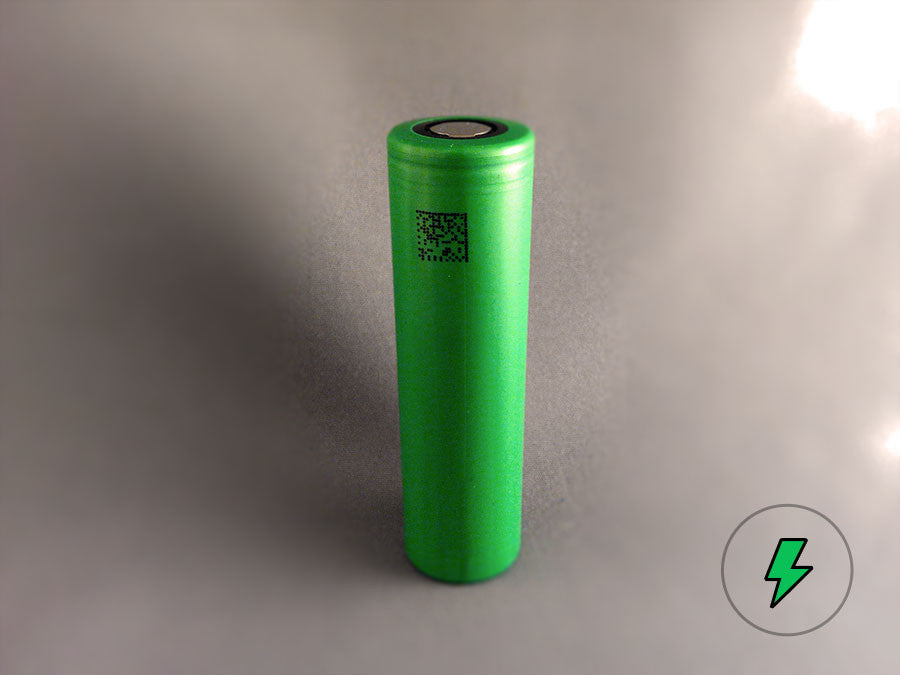 Sony 18650 VTC5
BUSINESS (PRICE hidden)
Lowest prices

with 5-7 day Air Shipping
21-DAY FULL REFUND POLICY.
AUTHENTIC GRADE-A BATTERIES GUARANTEE.
Update: The VTC5 is back, and readily available.
Battery specifications
The Sony VTC5 is perhaps the most notorious lithium-ion 18650 battery of all time - but wrongly so. Many vendors claimed it to be a 'step up' from the VTC4 but naming conventions are not that simple. Actually, the VTC5 was a step down for many people because of its max. cont. discharge rating is actually 10 amps lower. There is a lot of controversy surrounding this, as many trusted vendors falsely claim higher specs. This is all due to bad Chinese suppliers that exaggerate specs, and vendors that fail to enact due diligence and test their batteries thoroughly. Regardless the cell is still very popular and has many useful applications.
Battery specifications:
Model: US18650VTC5
Manufacturer: Sony
Chemistry: NMC
Max. continuous discharge current: 20A
Nominal capacity: 2500 mAh
Nominal voltage: 3.6 V
Discharge end voltage: 2.5 V
Charging voltage: 4.20 +/- 0.05 V
Standard charging current: 1.25 A
Length: 65.20 mm
Diameter: 18.35 mm
Weight: 44.30 g
Download the official Data Sheets:
Sony VTC5 Official Specifications
Battery Bro has your back
Never worry about quality when buying from Battery Bro. We make sure you have the latest, greatest cutting-edge battery, every time. 
Price
18650 batteries are commodity cells, and as a wholesaler, we understand how important price is to your bottom-line. As such, we offer international shipping directly from Asia to save money in higher quantities.
Shipping
We ship worldwide normally via UPS, FedEx (DAP), and Special Line (DDP) under Incoterms 2010.
21-day full refund
All battery cell orders fall under our 21-day full refund policy to allow ample time to test for authenticity and performance.
Quality guarantee
Battery Bro has been in business since 2014 and has never sold counterfeit cells. We value long-term relationships with clients and encourage our clients to performance test cells against official manufacturer specification sheets.
In Asia, 18650 batteries are binned by quality into A, B, and lower bins. C-bin batteries are often recycled from battery packs. Lower bin batteries will underperform and may be dangerous.
We will only provide A Grade cells, unless specifically required to otherwise, for example, some clients may prefer Grade B Chinese cells for low-cost ESS projects. We can also confirm batch-date code, run testing (like impedance/voltage/capacity), and handle other IQC requirements.
Safety
Take a look at our 18650 battery safety infographic
Some general tips
Do not exceed max. continuous discharge ratings.
Keep temperature under 60 degrees Celsius.
Do not carry loose batteries in your pocket.
Free Safety Booklets
For retailers selling 18650 batteries: 
Increase battery sales and protect yourself from liability with 18650 safety booklets.
Customers ignorant to battery safety are not likely to purchase 18650 batteries or upgrade to MODs which require them.
You, the store owner can show your customers your shop cares about their safety
Simply bundle our safety booklets with the batteries you sell.
Did you know? In 2015, an e-cig shop was sued for one million dollars when a battery short-circuited in a customer's pocket. A safety booklet could have prevented that and protected the retailer from a lawsuit.
Get 50 free booklets on your first purchase of 20 cells or more.
Visit the battery booklet product page.
Related products