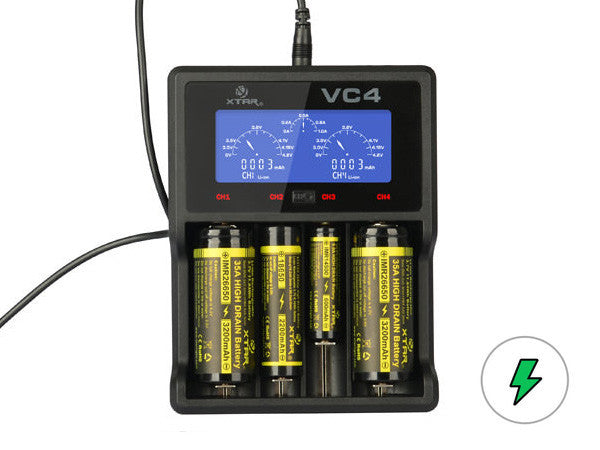 VC4 Charger (Kit)
BUSINESS (PRICE hidden)
Lowest prices

with 5-7 day Air Shipping
Our curated selection of 18650 battery chargers are what we consider the best of the best. We fully endorse this XTAR charger quality and value, and that's why we supply it.
The XTAR VC4 charger is a combination of the XP4C and VC2 charger.  This intelligent charger can recognize, charge, and display charging current, battery voltage, and charge capacity of both Ni-MH and Li-ion batteries at the same time.
The VC4 is compatible with all 18650 and other-sized batteries sold on Battery Bro. This is a USB powered charger so it can be plugged into any of your existing  AC USB wall adapter plugs (e.g. Apple, Samsung, etc.)
The basic VC4 charger kit includes:
XTAR VC4 charger

USB charge cable

Retail packaging

Premium pouch

User manual

Warranty card
Lithium-ion battery charging parameters:
| | |
| --- | --- |
| Input Power | DC 5.0V 2.1A |
| 0.5A CC Current | 500±50m A |
| 1.0A CC Current | 1000±80m A |
| Cut-off Voltage | 4.20±0.05V |
| Operation Temperature | 0-40℃ |
The charger is compatible with:
10440, 14500, 14650, 16340, 17500, 17670, 18350, 18490, 18500, 18650, 18700, 22650, 25500, 26650, 32650, 3.6V/3.7V Li-ion and AAAA/AAA/AA/A/SC/C/D. and Ni-MH/Ni-CD batteries so you do not need to buy separate chargers for each battery type.
Related products