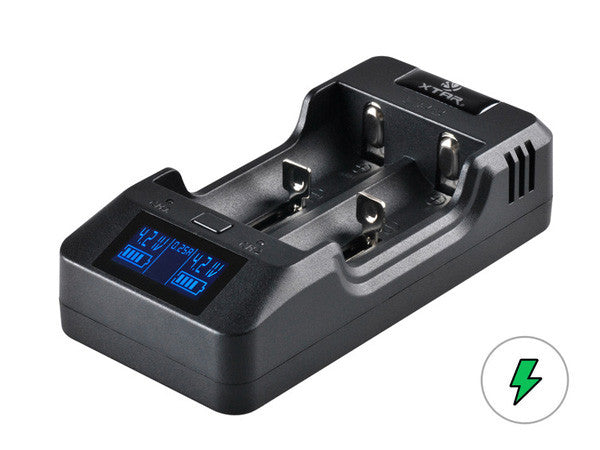 VP2 Charger (Kit)
BUSINESS (PRICE hidden)
Lowest prices

with 5-7 day Air Shipping
Our curated selection of 18650 battery chargers are what we consider the best of the best. We fully endorse this XTAR charger quality and value, and that's why we supply it.
The XTAR VP2 charger is a new lithium-ion battery charger great for a wide variety of battery sizes and capacities. It features precise voltage, an LCD battery level display and even a USB powerbank. 5V & 1A out for charging your other devices.
What's Included:
VP2 Charger

US / EU / JP AC Adaptor

Car Adaptor

Package 
The charger is compatible with:
Has two channels for:10440, 16340, 14500, 14650, 17500, 17670, 18350, 18500, 18650, 18700, 22650, 25500, 26650 and Rechargeable RCR123A battery types.
Features:
Algorithm (CC.CV) charging system

Optional and adjustable charge current: 250mA, 500mA, 1A (Users can choose whether they want to charge fast, or charge slow and help preserve the life of their battery)

Switchable LCD indicator to display the real-time charging voltage and battery status

Activation function for over discharging battery. Can recover the overly discharged protected batteries

Soft start function avoids damage from a large current surge

Automatically restart charging when batteries voltage(full charged batteries not taken out from the charger channel)is below 3.9V(batteries may self discharge)

Reverse-polarity protection circuit board

USB
Specifications:
Operation Temperature: Room temperature 0~40℃

Input AC: 12V DC 1000mA

0.25A CC :250mAh±30mAh

0.5A CC :500mAh±50mAh

1.0A CC :1000mAh±80mAh

Cut-off Voltage: 4.2V±0.05V

Detection precision:±0.03V

Weight: 95g

Size(mm): 118.0 length x 62.0 width x 34.0 height
Related products